Can Bankruptcy Stop Creditors From Harassing Me?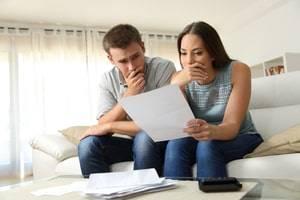 If you owe significant debts, creditor harassment can be a problem. Creditors may repeatedly call you or send notices through mail, email, or other methods, and they may threaten to take your property, file lawsuits, or even pursue criminal charges. As you determine your options for debt relief, it is important to understand your rights, the steps you can take to respond to communication from creditors, and how filing for bankruptcy may help your situation.
Your Rights Under the Fair Debt Collection Practices Act
The Fair Debt Collection Practices Act (FDCPA) is a federal law that limits the types of actions that creditors can take when collecting debts, and it also provides consumers with options for limiting contact with creditors and requiring them to stop certain actions. Under the FDCPA, creditors have restrictions on the types of communication that are allowed with debtors. They are generally prohibited from contacting you at unusual times, such as after 9:00 p.m., and they cannot attempt to contact you more than once per day.
While creditors can contact you through multiple methods, such as calling you at work, they are required to stop doing so if requested. In fact, you can request that they cease all communication with you by submitting a written request. This will not stop them from taking actions to collect debts, such as by filing a lawsuit, but it can stop them from calling or otherwise contacting you while you determine how to address the debts that are owed. You can also request a validation of your debts, and in these cases, a creditor must send you a validation letter that states the name of the creditor, the amount owed, and information about disputing the debt.
Creditors are also prohibited from engaging in certain types of harassing behavior. They cannot threaten you or use profane language, they cannot lie about the amount owed or the consequences you may face, and they cannot misrepresent their identity (such as by claiming that they are a member of law enforcement). They are also prohibited from engaging in unfair practices, such as asking you to send a postdated check, claiming that they can repossess property when they have no authority to do so, or threatening to file a lawsuit against you when they do not actually intend to do so.
Stopping Creditor Harassment Through Bankruptcy
One of the best ways to stop creditors from harassing you is by filing a petition for bankruptcy. As soon as your petition is filed, the bankruptcy court will issue an automatic stay that will require creditors to cease all forms of collection. This will prohibit them from calling or contacting you in any way. They must also stop any actions they have begun to take against you, such as initiating or continuing with foreclosure proceedings, repossessing your property, or garnishing your wages after receiving a judgment against you in court. As you proceed with the bankruptcy process, you can determine your best options for eliminating your debts or reducing the amount you are required to pay, and you can avoid any continued contact with creditors in the future.
Get Help from a U.S. Bankruptcy Lawyer
While the automatic stay will provide you with some temporary relief from creditor harassment, you will need to make sure you follow the correct steps during your bankruptcy to deal with your debts and regain financial stability. An experienced United States bankruptcy attorney can help you understand your options and work with you to complete all requirements during the bankruptcy process. With the right lawyer on your side, you can avoid ongoing financial difficulties and move forward to a better future.
Sources:
https://www.consumerfinance.gov/ask-cfpb/are-there-laws-that-limit-what-debt-collectors-can-say-or-do-en-329/
https://www.nerdwallet.com/article/finance/fair-debt-collection-practices-act
https://www.investopedia.com/terms/f/fair-debt-collection-practices-act-fdcpa.asp
FIND AN ATTORNEY
Enter Your Name, City, or Zip Code to Find Qualified Bankruptcy Lawyers Near You